organised is a word i need to become better acquainted with
recently a number of fun & exciting things have happened to me ……. when i say recently – i mean in the last 3 months……
yeah – so i know 3 months doesn't count as recently
but it has to – for me – because little miss organised i am not
i can tell you ill try harder – i can tell you the new year will mark a new me – but i cant promise that…..
anyway – with no more delay – i want to introduce you to a scheme that is, as far as i can see, close to perfect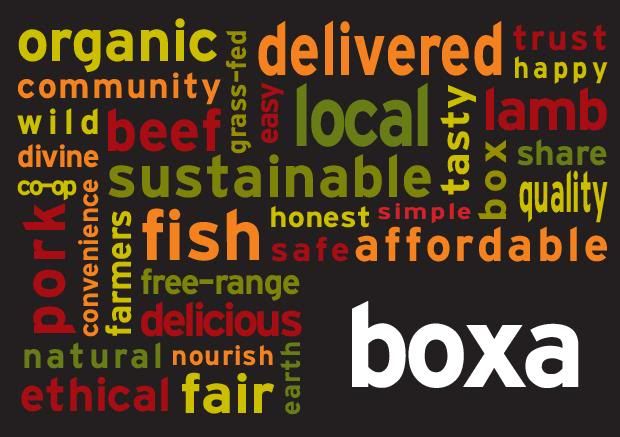 just over 18months ago – with 14 enthusiastic people – & one very committed lady called Rita – BOXA was born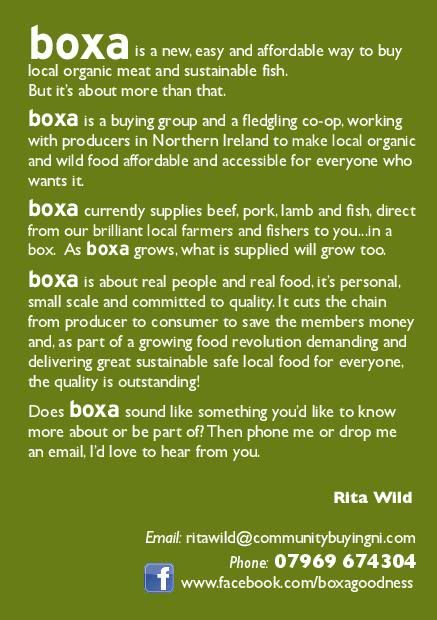 BOXA started with those 14 people & 20 boxes of beef
Now Rita has 65 regular buyers, and an additional 20 casual purchasers, sharing 14 cows, 40 lambs, 8 pigs, 25 turkeys, 65 boxes of fish (that's nearly half a ton of fish) plus plenty of spuds and honey!
My favourite bit of this ( apart from how great the product is ) is the £20,000 she has been given to the farmers involved. Rita puts why this is so fabulous perfectly!
"that's 20k that did not go into supermarket tills, but rather went to small local farmers, fishers, butchers and processors. And we got to eat the some of the best meat currently being produced on the island of Ireland (and I think perhaps the world!). It is such a pleasure to be able to have this quality at a genuinely affordable price. That makes me smile a lot"
You know what – it makes me smile a lot too – it is the way things should be!
The boxes are currently available are
organic grass fed LAMB – organic grass fed 4 week aged BEEF – organic & very free range ( they have a forest! ) PORK – line caught sustainable rathlind island FISH & SEAFOOD – SPUDS – HONEY
I wouldnt recommend something without trying it out myself – and when Rita first got in contact with me she was kind enough to supply me with a mixed box of fabulous samples
so fabulous in fact that – that i have since ordered myself – and have been spending the past month very merrily working my way through an incredible box containing 1/2 a lamb – and a box of very lovely fish. Which i must add surpassed my expectations, as i didnt expect it to defrost just as perfectly as it does – perfect!
I also priced the lamb box up in comparison to the same from Sainsburys – the prices difference shows the value for money ( i even had to use the non organic lamb shoulder price as Sainsburys do no organic equivalent )

I would be really interested to know what Sainsburys ( or any supermarket for that matter ) make mark up wise on meat products – as the feedback I have been hearing from Rita is that we ( the community ) are giving them a far better price – but i am confused by this – as we are also getting the product at a lower price….. interesting…..
oh & did i forget to mention Rita visits every farm herself – just because a farm is organic doesnt mean it meats her high standards – the welfare aspect of the product is also hugely important – these are HAPPY animals – their farmers dont only care about the money at the end of the tunnel – people who genuinely care about the life before them – & of course this is turn is reflected in the high quality of the produce!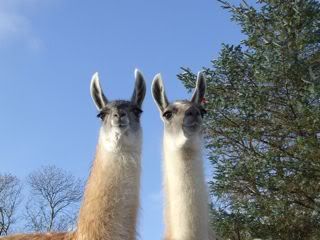 a brilliant example of this is found in the way  Michael and Cathy Black's early lambs have been looked after this year! Having lost around 20 lambs to foxes most years – they needed a solution that would not affect the lives of the little lamb folk – and this was found in the form of baby sitting Llamas! They have not lost a lamb since – and they still get to be born outdoors in the beautiful Glens of Antrim!
I hope to visit some of the farms myself soon – watch this space 🙂
However in the mean time – you should give BOXA a go – its a friendly community that I am very happy to be part of 😀