If there is one thing I find hard to refuse, it is a good tasting menu.
A good tasting menu captures the very essence of a restaurant – showcasing their popular and classic dishes, alongside adventurous new dishes they have been working on. The perfect excuse for a talented chef to show you their hand. Exposing the diner to little snippets of each and every skill…
The Perfect tasting menu
I have eaten an awful lot of tasting menus over the years ( and intend to eat many many more! ) so when Chill asked me to piece together the perfect evening meal – it wasn't too hard!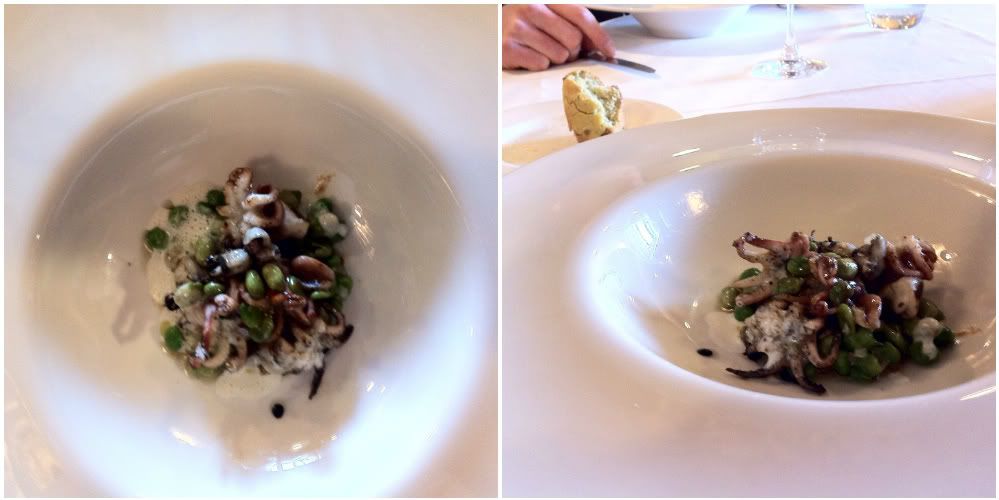 Baby Octopus with Green Beans
Those who know me well will be sick of hearing of the extraordinary experience M & I had in Fonda Xesc a number of years ago. So there is no surprise that I would pick one of their courses to kick off proceedings. The little octopus where fabulous, from their slightly crisp tentacles to their little squidgy heads full of salty goodness! ♥ Excuse the quality of photo from way back when…
Dorset Hand Dived Scallops
Dish number two would be some more seafood. On a recent trip to Borough Market I snaffled up many a treat – but those scallops were a highlight!
'Meat Fruit'
This dish at Dinner by Heston Blumenthal was extremely tasty – and visually stunning. A good talking point for my tasting menu!
Magret Duck
My 30th birthday lunch involved a trip to Patrick Guilbaud ( Ireland's only 2 star Michelin Restaurant ). All courses were of course, wonderful but my main course of Magret Duck & Griotte Cherry stood out. Beautifully pink with vibrant flavours of cherry. YUM.
Black Forest Gateau
Not only is this dish from Petrus the prettiest thing – it was also a particularly delicious  dessert. Petrus is the whole package from start to finish but this beauty stole the show! If I had to choose some front of house staff for the evening it would most certainly be the sleek friendly folk from Petrus.
So there we have it – the tasting menu I would invite you all round to my place to enjoy. Expect some good wines to match – and plenty of laughs. What more could you wish for?
Fancy the chance to develop your own tasting menu? Chill insurance is offering you the chance to win tickets to Taste of Dublin in Iveagh Gardens Dublin. Pop on over to their site and answer one super easy question – then report back when you win letting me know about all the lush food you have snaffled!