so i stumbled across a cute idea for a wednesday post on http://www.peasandcrayons.com/ today – and i shall hopefully make this a weekly thing!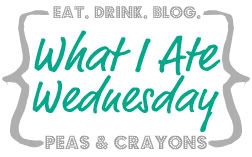 i started my day off with a cup of rose tea – i picked up these rose buds in selfridges on my last trip to london – they really are beautiful – but running out!
then i ate this sorry collection of things at work today – though i must say the maxi king thingy was pretty good!
and then i devoured a cupcake 😀
i was better behaved & organised for dinner and threw together this lush linguini dish
prawn & wild garlic pesto linguini – mmmmmmmm
and i even have posted the recipe for you to try here
and for dessert i had picked up some Gu souffle's reduced in tesco – they are a nice treat 🙂
and that's it for what i ate wednesday 😀